Garlic bread is a dish that can be served as either an appetizer or a side dish. Garlic bread is made using garlic and Italian bread.
It is seasoned with butter and herbs and is usually topped with Parmesan cheese. Garlic bread is often served alongside tomato sauce dishes. When served with a tomato sauce dish, garlic bread is typically served on the side as an accompaniment.
With its crispy outside and warm, fluffy inside, garlic bread is just the thing to make any meal more exciting. One way is to cook yourself a delicious garlic bread with olive oil and herbs.
Once it's done, top it with some sliced tomatoes, some fresh mozzarella, and some basil leaves, then pop it under the broiler until the cheese is melted.
How to make garlic bread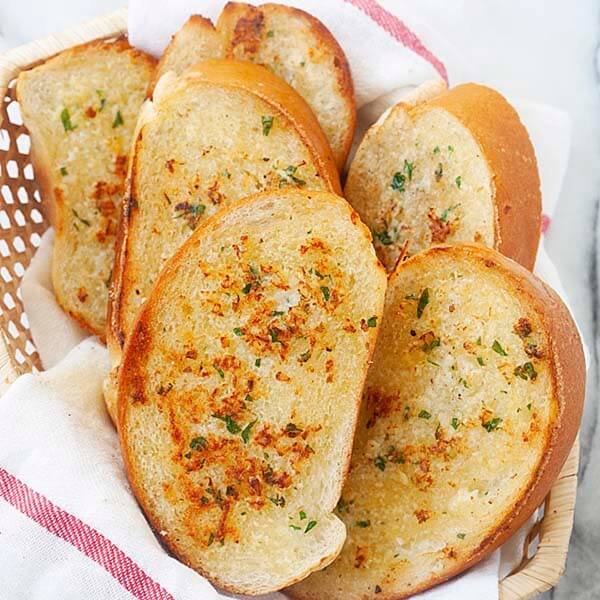 Garlic bread is a quick and easy appetizer that takes almost no time to make. Before attempting to make garlic bread, you should remember a few things.
First of all, you need to know that you can use any type of bread you like. While garlic bread is traditionally made with Italian country bread, you can use any bread you like, even expensive artisanal breads.
 You should also keep in mind that the type of garlic you use will have an effect on the flavor of your garlic bread. For the best results you should use sweet garlic, which is at its peak in the summer.
Garlic bread is the classic accompaniment to a pasta meal, and while it's certainly not a difficult dish to rustle up it can be a bit of a faff. It's also a very simple dish to make, with minimal ingredients.
 A great way to make garlic bread is to create a pre-made mix so that it's simple to make when you want it.
Making garlic bread has never been easier, and this step by step guide will show you how:
Step 1: Preheat the oven to 400 degrees
Step 2: Cut a baguette into 1 inch thick slices
Step 3: Smear each slice with butter
Step 4: Tear a few cloves of garlic and rub them on the bread
Step 5: Sprinkle some parsley on top of the garlic
Step 6: Place the bread on a baking sheet and bake until golden brown.
Step 7: Serve and Enjoy
Garlic bread is the ultimate accompaniment to a good meal, and whether you dip it into the sauce, or spread it with cheese, it can pretty much make anything taste better.
Best foods to eat with garlic bread
Whether you like to dip your bread in the extra garlic and oil left over from the garlic bread, or you just want to eat the dish with garlic bread on its own, there's no denying that garlic bread is a delicious treat. Whether you're just looking for a snack or you're getting ready for dinner.
It can be serve with main dishes like:
lasagna
baked pasta
baked chicken 
steaks
pizza
pastry dishes
stew
As anyone who has ever eaten garlic bread knows, the flavor combination of bread and garlic is so delicious that it hardly needs any embellishment. Still, garlic bread can be a great partner for many different types of dishes, especially those that are high in protein.
Foods that don't go well with garlic bread
Garlic bread is a common accompaniment to many dishes, but it doesn't always go well with everything. Here are a few common foods that don't mix well with garlic bread:
Soup: The bread can soak up the broth from your soup, making it too soggy
Pasta: The bread can get lost in the sauce of your pasta, and if you're eating it with garlic bread, it's going to get soggy and lose its flavor fast
Spicy Foods: You don't want your mouth to burn off when you bite into your garlic bread
Cheeses: Cheese is best when it's melted, and there's no better way to melt cheese than with a garlic bread
Garlic Bread is a tasty side that goes great with pasta dishes, and meat dishes. It is also a great appetizer to serve when you have company over during the football game.  However, garlic bread can be a bit overpowering when combined with certain ingredients. So you need to know what's best for your own taste.
How do I store garlic bread?
Garlic bread is one of the most delicious dishes to come out of the Italian kitchen. Super easy to make and crave-worthy, this garlic-packed dish will become a staple in your house.
But, what do you do once you've finished the entire loaf? (which is likely to happen real quick) There are two options for storing garlic bread: you can freeze it, or keep it in the fridge. While neither are perfect for the dish, both will ensure that you can eat delicious garlic bread whenever you want.