What To Serve With Paneer Paratha?
Paneer parathas are delicious snacks that are served at parties and special occasions throughout India. They look great and taste amazing. Many people serve them with raita, chutneys, and dals. But if you're serving paneer paratha, there are a couple of additional options to consider.
You might enjoy adding a side salad to your varieties of paratha, especially if you're eating the dish outside. You'll add crunch and color to your meal. Or, you may decide to include a sweet chutney instead of the traditional raita. There are countless variations of sweet chutneys; pick whatever flavor combination with parathas appeals most to you.
Paneer paratha is a delicious snack that looks beautiful and tastes amazing. Add a side salad, a sweet chutney, or a dollop of raita to your plate to spice up your paratha experience!
What Is Paneer Paratha?
Paneer paratha is a delicious Indian flatbread stuffed with cheese. It's typically served at breakfast with chai or tea, but it also goes well with dinner.
You can make homemade paneer if you'd prefer, but it takes a lot longer to prepare. However, homemade paneer is worth the effort since you'll have complete control over the quality of the ingredients and the taste.
To make homemade paneer, simply combine milk, cream, yogurt, lemon juice, cilantro stems, green chili, salt, and sugar. Let stand overnight until thickened. Add grated onion, garlic, ginger, and coriander leaves to the mixture. Mix thoroughly to form a smooth paste. Allow sitting for another half hour. Drain off excess liquid and transfer to a clean bowl. Add cottage cheese followed by breadcrumbs and knead well using your hands.
Shape smooth dough into a ball, wrap tightly in plastic wrap, and place in refrigerator for 12 hours. Remove from fridge and cut into 8 equal pieces. Roll out each piece between two sheets of parchment paper. Transfer to a plate and refrigerate for 30 minutes. Flatten each piece into a disc shape. Cook in a pan over medium heat until lightly browned on both sides. Serve warm with any chutney of your choice.
How To Make Paneer Paratha
Paneer parathas are delicious Indian flatbreads made with shredded paneer cheese. You'll find them at every restaurant in India or at roadside food stalls across the world. These are usually served alongside vegetables and curries, but they can easily be eaten on their own.
These tasty flatbreads are simple to make. All you need is a handful of ingredients and a few moments of your time. You won't believe how easy it is to make these delicious flatbreads.
You can make paneer parathas right at home. Simply mix milk, cream, yogurt, and seasonings. Add some fresh herbs like coriander leaves and let sit overnight. Then drain away the excess water and add Indian cottage cheese and bread crumbs.
Knead the moist dough ball with your bare hands until it becomes soft and pliable. Then flatten it into discs, cover it with plastic wrap and chill for 30 minutes. Once chilled, roll out each round between 2 sheets of parchment paper. Heat a skillet over medium heat and cook the rounds until browned on both sides, about 5 – 6 minutes per side. Cool completely and serve with any sauce of your choice.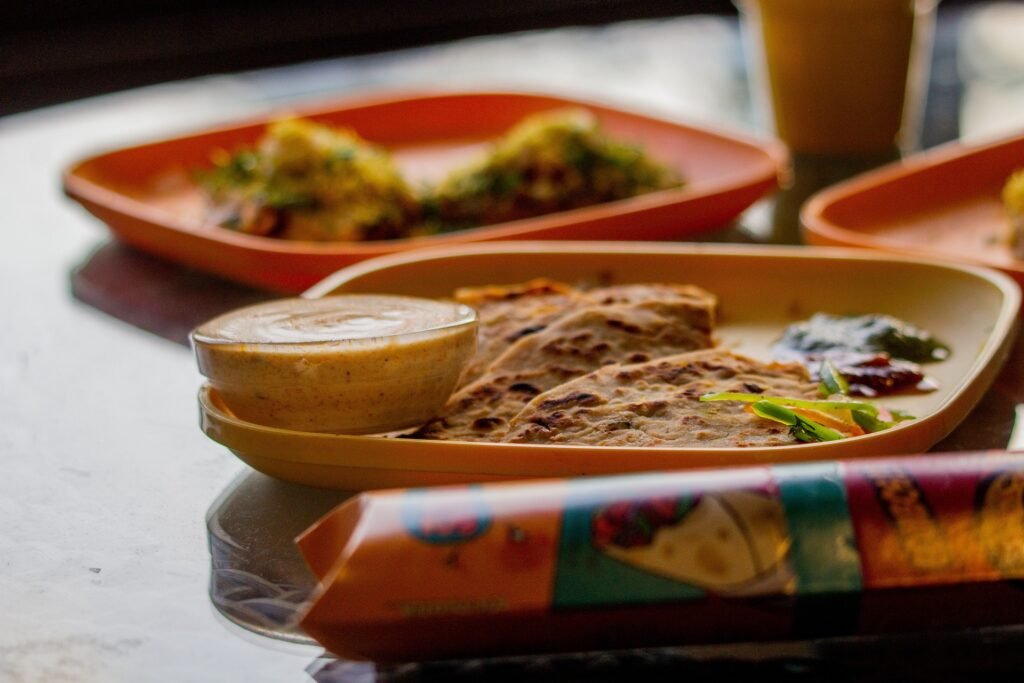 Ingredients
• 2 cups plain whole wheat flour
• ½ cup gram/chickpea flour
• ¼ teaspoon baking soda
• Salt
• 4 tablespoons ghee or vegetable oil
Rolling
You'll find that the easiest way to roll a paratha is by using a heavy cutting board and a large knife. You should start with butterflied flatbread dough, shape it into a long cylinder, and cut off pieces of dough to form round parathas.
Roll each piece of dough between your palms until it forms a thin circle. Once you have rolled out all the parathas, heat a dry frying pan over medium heat and cook the parathas for 2 minutes per side until golden brown.
Parathas are one of India's most popular snacks. They are often served warm with chutneys and mango pickles. To Make perfect paratha you have to do perfect rolling for that.
Ingredients
• 2 cups plain flour
• ¼ cup oil
• ½ teaspoon salt
• 4 tablespoons water
Cooking
To cook paneer parathas, start by cooking the dough. Mix 1 cup of wheat flour with 1/2 teaspoon of baking powder and 2 tablespoons of oil. Add water slowly until the batter forms a soft ball and leaves the side of the bowl clean. Cover the bowl tightly with plastic wrap and let sit overnight.
Next day, preheat oven to 400°F. Heat a griddle pan on medium heat. Once hot, remove the plastic wrap and sprinkle half of the dough onto the greased surface. Spread evenly across the entire surface. Cook for 5 minutes. Remove from heat and place another layer of dough on top of the previous one. Flip the pancake and repeat the process. Continue rolling until all the dough is used up.
Place the rolled pancake on a plate and cover it with aluminum foil. Repeat the same process with the remaining dough and place the second pancake on top of the first one. Wrap the whole dish tightly with aluminum foil. Place the wrapped paratha in the freezer for 15 minutes. Remove from the freezer and cut into slices. Bake for 8 to 10 minutes or until golden brown. Serve warm.
Paratha is an Indian flatbread made with unleavened flour. In India, it is often eaten with curry dishes. Paratha is usually served along with curries, dals, pickles, etc., but you can eat it alone too.
Ingredients
• 2 cups whole wheat flour
• ½ cup maida/all-purpose flour
• ¼ tsp salt
• 3 tbsp oil
• 4 tbsp ghee
Curries
Paratha is one of India's most popular flatbreads. They are usually served with savory fillings like potato, paneer, vegetables, etc. But parathas can also be stuffed with sweet stuff such as mawa, jaggery, sugar syrup, etc. These delicious vegetable curries and sabzis are simple to prepare and go well with rice, roti, naan, bread, chapati, etc.
Aloo Shimla and Mirch sabzi are quick and healthy dishes for parathas that you can whip up in no time. The recipe uses potatoes, onions, green chilies, coriander leaves, cumin seeds, ginger, garlic, salt, turmeric powder, red chili powder, garam masala, tomato sauce, and water. You can use any vegetables of your choice depending upon what you want to cook.
Ingredients
Potatoes – 2 medium-sized ones
Onions – 3 large-size ones
Green Chillies – 4
Coriander Leaves – ½ cup
Chutneys
The recipe is super quick and simple to make, you don't even need a recipe card for it. You can use it as a dip for bread or crackers, spread it on sandwiches, or even eat it straight off the spoon. Chutneys are one of my favorite things to serve with Indian food. They add flavor and texture without being too heavy. I like to keep mine simple, but you can go crazy with spices and herbs.
There are many different types of chutneys. Some are sweet, some spicy, and some savory. Experiment with different flavors and see what you think.
Raita
A raita is a tangy sauce made from yogurt. You can serve it as a side dish, dip, or spread. Traditionally served with flatbreads and rice dishes, it's now enjoyed throughout India on its own. It's usually seasoned with salt, cayenne pepper, and ground coriander seeds; sometimes it may include dried fruits, nuts, chilies, or garlic powder.
Here are some tips for making the best ever raita:
• Mix ingredients thoroughly using a fork.
• Add salt only after tasting the mixture. Too much salt makes the raita bitter.
• Don't add any water until the end of the mixing process. Adding too much water at the beginning causes the yogurt to separate.
• Garnish with chopped mint leaves.
• Serve chilled.
There are several variations of raitas, depending on where you live. Some are served plain, whereas others are mixed with fresh vegetables or pickles.
Lamb and Chicken Recipes
Lamb and chicken are both great choices for kebabs and curry dishes. They are versatile ingredients that go well together. If you like lamb, try these recipes.
These recipes are perfect for summertime grilling. Try these recipes if you're looking for something light and flavorful.
Try these recipes if you want some healthy and tasty food. Lamb and chicken recipes are extremely popular in India. This recipe is easy to prepare and tastes amazing.
You can serve these wraps with either rice or paratha. Enjoy!
Dals
Dals are one of India's most popular dishes. They're usually served with rice or roti.  These dals are easy to cook and very healthy too. You can serve it with chapatis, naan, hot paneer paratha, gobi paratha, plain paratha, puris, etc.
Ingredients
• 2 cups Moong Dal/Split Bengal Gram
• 3 tbsp Oil
• ½ tsp Asafoetida
• ¼ cup Ginger – Finely Chopped
Beverages
Lassi is an Indian drink prepared out of yogurt and sugar syrup. There are different types of lassis like mango, strawberry, lemonade, etc. In India, it is very popular during the summer season.
People love to take lassi while eating hot roasting parathas. You can enjoy this tasty beverage along with spicy parathas. Ingredients required for making lassi are plain yogurt, sugar syrup, water, milk, salt, cardamom, cinnamon, cloves, ginger, black pepper, cilantro, green chilies, mint leaves, curry leaves, fennel seeds, coriander seeds, and saffron. Let us see how to make lassi.
Ingredients
Plain Yogurt – 2 cups Milk – 3/4 cup Sugar Syrup – 1 tsp Salt – 10-12 Green Chilies – 4 Cloves – 5 Cinnamon sticks – 1 Tbsp Ginger Juice – 1 Cup Mint Leaves – 1 Tbsp Curry Leaves – 1 Tbsp Coriander Seeds – 1 Tsp Saffron – Water – To garnish – Ice cubes – Freshly squeezed lime juice – Chopped Cilantro
Method
Mix all the ingredients except for the ice cubes and freshly squeezed lime juice. Add some water to form a thick paste. Now add the ice cubes and mix well. Garnish with
How To Make Good Paneer Paratha?
Making paneer paratha stuffing is very simple. You don't even need to buy special equipment. All you need is a clean flat surface, a bowl, a rolling pin, a tava/griddle, and cooking oil.
First, prepare the dough. Take 2 cups of atta (durum wheat flour). Add 1/2 teaspoon salt and 2 teaspoons of oil. Mix it well. Add enough water and continue kneading until it's become a soft dough. Divide the dough into small pieces. Shape it into balls and cover it with plastic wrap or cling film. Let it rest at room temperature for 20 -30 minutes.
Then, make the filling. Crumble the paneer into a bowl. Chop the cilantro and add it along with the green chili, gram masala, and ajwain carrom seeds. Season with salt and pepper. Mix well.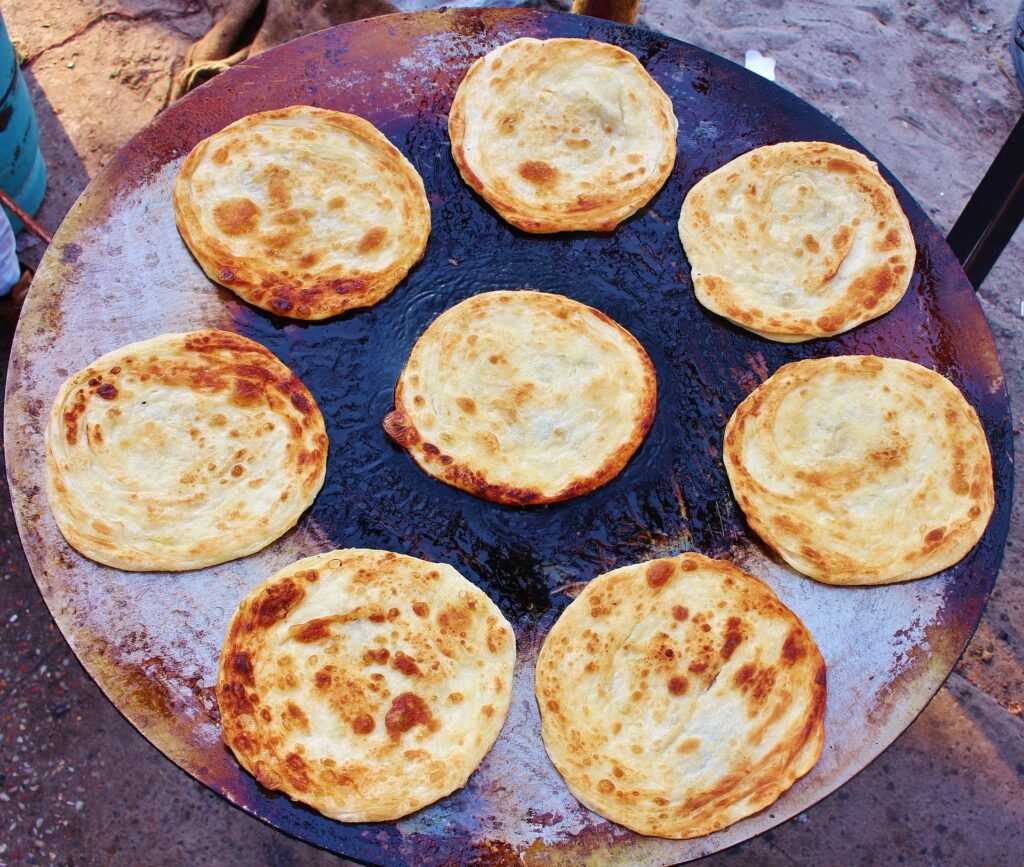 Now, make the stuffed paratha. First, flatten the rolled dough with your palms. Spread the stuffing on the flattened dough. Fold the edges of the stuffed dough and fold it again to enclose the stuffing. Roll the dough once more with a rolling pin. Don't worry if there is excess stuffing. Just trim off any extra.
Once the dough is rolled, spread some oil on the half which is facing up, and flip it over. Then spread some oil on the other side and flip it again. Flip the paratha over for the third time and spread some oil on the exposed side.
Place the paratha on the hot tava/griddle. Cook for a couple of minutes, turning it occasionally until the bottom turns light brown. Turn it over and cook the other side until golden brown. Serve warm with tea and enjoy.